Escape Hood Xtreme P3
The Xtreme Hood is developed to exceed all demands for escape hoods and is highly recommended for concentrations above 1000 ppm (parts per million). The hood's extremely low leakage, combined with the high-class filter, gives significantly longer action time or protection for higher concentrations of dangerous substances. The hood is made of a high visibility material. The visibility is furthermore enhanced by reflective stripes. The seal around the neck is made of a special silicone which gives a very effective seal, but the hood is yet comfortable to wear.
Extremely low leakage. Test average in breathing zone is 0.06%, where 5% is the limit. In ocular zone it is 0.6%, where 20% is the limit.
High level filter withstands 5.000 ppm. Hood norm is 1.000 ppm. • Shelf life of the Xtreme hood filter is 10 years.
Shelf life 10 years.
Description
Our Escape Hoods come equipped with high-performance filters that protect against a wide range of toxic gases, vapours, smoke, and particles.
Nordic Xtreme's Escape Hoods can be the difference between life and death in the event of gas leaks or chemical emissions. They are very efficient and easy to put on. No adjustments are required, and there is no need for practice or education. Our escape hoods cover the whole head and protect the face, ears and hair from chemicals and particles. They work with glasses and are a better choice than a full face mask for users with beards.
Twin exhaust valves ensure low respiratory resistance.

A large sleeve opening gives excellent visibility.

Can be used again after inspection and filter change by Nordic Xtreme (NX).

CE approved as half-mask according to EN140, with additional requirements from EN403 relevant for use as Escape Hood.
CARRYING BAG – EASY TO BRING ALONG
Our Escape Hoods come with a soft carrying bag. The bag is essential as it makes the hood easy to bring when working in demanding environments. The bag is compact and made in a water-resistant, robust, durable material. It has a waterproof zipper for easy opening. There is a pocket for filter date, name, or a safety card in the rear. The bag can be worn on a belt, carried over the shoulder or around the waist. It also has brackets for wall mounting.
FILTER INFORMATION
Our Escape Hoods exceed the requirements for escape hoods by a significant margin. We use class 2 filters and give the user a higher level of protection or longer action time. See the table below for the stipulated break-through times for filters in concentrations as high as 5.000 ppm. (Hood norm defines only 1.000 ppm). The NX Xtreme Hood has been tested for H2S in higher concentrations on customer request. Break-through time for 10.000 ppm was 58 minutes, and for 20,000 ppm was 24 minutes.
STIPULATED BREAK-THROUGH TIMES FOR FILTERS, ACCORDING TO EN 14387:2002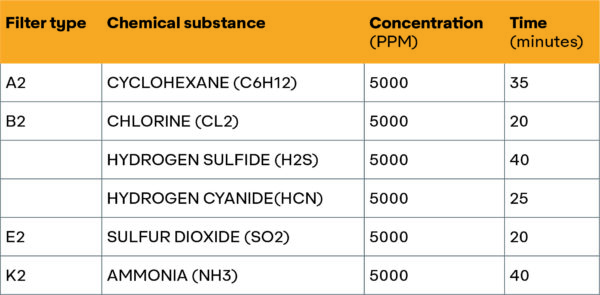 EXPLANATION FILTER CODING

SHELF LIFE
You may store the filter in an unopened foil package for 5 years (Escape Hood Standard NXP2) and 10 years (Escape Hood XtremeP3 and Smoke Hood NXP4). The packing date and the "best before date" are stated on a label outside the foil packaging. You must inspect the hood and replace the filter if the filter date has expired or the foil package has been opened. Contact an authorized NX Distributor for help and guidance.